Roger Federer and Serena Williams both made easy progress to the quarter-finals on the day Johanna Konta staged a fightback to get through
Alex Hess1h ago
And that's that from our live blog today.There will be a report to follow on Serena's win. Thanks for reading.
Serena admits she was a little worriedwhen that injury happened but says the crowd pulled her through to her 16th US Open quarter-final. "Am I that old?" she says when reminded of that. It's two years to the day that her daughter was born. "She sees me on TV and says 'Momma' and she sees Venus on the TV and says 'Momma'. But that's OK, me and Venus share everything." She dedicates her win to all the parents out there. "As Billie-Jean King says, privilege is a pressure and I am privileged to have that pressure."
Serena Williams beats Petra Martic 6-3 6-4
Serena gets ready to serve for the second set and the match, and gets it done, just as would be expected.
The injury does not appear to havedimmed Serena too much. At 4-2 up in the second, she forces another break point. Had she not overcooked a passing shot, she would be 5-2 up. No matter, she will serve the next.
Here's Tumaini Carayol on Roger Federer's stroll.
After lengthy treatment and strapping, along with something that looks like an ankle brace/support.
Serena Williams, injury and all, battles to break Martic. Now the medical staff are coming on.
Williams turns her ankle after landing following a volley. The video of it doesn't look good and she spends a moment or two on the floor but she gets back up.
Williams and Martic is going with serve in the second set. Neither player looks to be giving an inch.
Serena Williams won her first set against Martic 6-3. Dimitrov is through to the next round after a straight sets win over De Minaur.
Konta thanks the crowd for some reason.Konta points out she is very happy, which is unsurprising. Points out she wants to go even further – and possibly win it. Now they cut to Tom Hiddleston, the real star of the show, before Konta whacks a few balls into the crowd.
Konta is into the quarter finals after hold her nerve at Flushing Meadows. She looked remarkably calm in the latter stages and managed to get the job done.
Konta beats Pliskova 6-7 6-3 7-5
Pliskova cannot return the first serve but Konta gives her an opening with a wide forehand to level things up. She plays the same shot again but nails it into the corner. Konta hits a backhand into the net after a noise from the crowd upset her. It's not been a great crowd, that's for sure. A backhand slice from the baseline goes long to give Pliskova break point. It goes to deuce when Konta opens her body up to whack one into the corner. Pliskova whacks a return very long to give the Briton advantage. It's all square after a powerful forehand goes long from Konta. Pliskova gets moved all around the court by Konta who finishes it off with smash into space. Pliskova hits one long. KONTA WINS!!
Updated at 8.58pm BST
Serena Williams v Martic is going with serve. Currently 4-3 to the American in the opening set.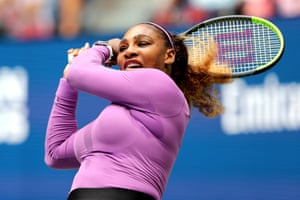 Updated at 8.13pm BST
Pliskova volleys a potential winner into the net, followed by a hilarious long shot, putting Konta 0:30 ahead. It gets worse with a double fault. Konta breaks!! She now gets to serve for the match.
Konta does not show any nerves with an incredible backhand down the line which lands perfectly one the white paint. Konta is putting everything into her shots, there's no holding back as she smashes one into the corner, followed by an ace onto the line. Pliskova returns long, as Konta holds to love. All equal at 5-5.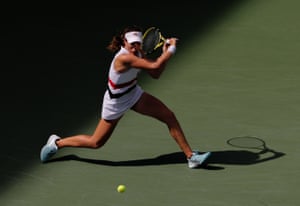 Updated at 8.04pm BST
After losing the first two points, Konta gets back into the game with a forehand into the corner well out Pliskova's reach.She can't follow it up and sends a similar shot into the net. A powerful serve completes the win. Konta now needs to hold to save the game, as Pliskova leads 5-4.
Both players are looking very confident on their own serve. Konta is putting Pliskova in trouble with some wide serving, who can't return with an composure. Konta takes the game. All square at 4-4.
Konta gets Pliskova on the rack but then whacks a forehand into the net when a winner was on. Pliskova wins the game to love. Now 4-3 to the Czech.
A very long rally comes to an end when Konta needlessly hits a smash into the net. She moves on quickly and breezes through the next few points to hold. Things are level at 3-3.
Pliskova double faults to open up her service game. She makes up for it by taking the next two points untroubled, followed by an ace. It's 3-2 to the Czech in the final set.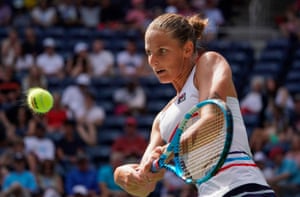 Updated at 8.05pm BST
A rally from the back of the court ends with a cracking Pliskova backhand into space. Konta miscues a backhand slice and it loops very long to put her in further trouble. She rectifies that issue with an ace and the next serve puts Pliskova in trouble and Konta converts a poor return. Konta goes from 0:30 to winning the game. Great work from her to level the set at 2-2.
A double fault from Pliskova gets Konta into the game at 15:15. Some ugly shots from both players result in Pliskova getting the next point as Konta sends the ball very wide but then the Czech hits one even wider to make it all square. Pliskova takes the game after Konta sends one long. A 2-1 lead in the final set for Pliskova.
Konta starts off the next game with a lovely finisher after a poor backhand from Pliskova. A backhand slice from the baseline goes into the net for Konta to make it 30:30. Konta gets through the game to win it and level the final set at 1-1.
Pliskova is not messing about in the final set. She wins her opening service game to love. Konta didn't get a sniff.
Konta drops down to 15-30 on that vital service game, then to 15-40, when making a mess of an overhead. Then there's a gutsy serve, then a crashing volley to level the game. That's much better. Then she forces Pliskova into lobbing up the ball from the baseline and drills home a winner. Then an error from Pliskova. It's 1-1 on sets. Good stuff from the plucky Brit.
And Konta breaks again! She is serving for the second set. Mind you, she was serving for the first set too.
Serena is ready for her match, and against an unfamiliar opponent in the Croatian Petra Martic. She gets one heck of a whoop as she enters the Arthur Ashe.
And Konta, just like she needed to, has broken back. She won't be going out without a fight. The problem being that she is much more vulnerable on her serve. Konta, though, holds her serve. Now to put the pressure on Pliskova.
Updated at 7.19pm BST
The match to be Federer's next victim, that between Grigor Dimitrov and Australia's Alex de Minaur is heading the way of the Bulgarian, who won the first set 7-5 and is 3-1 up in the second set.
Konta's grand slam hopes are slipping away fast; she is 3-1 down in the second set and serving for her life. She holds her serve and badly needs a break back or it is curtains.
It's almost Serena time, and the Arthur Ashe Stadium is ready for her, having just watched the Federer express make such short work of Goffin.
Pliskova is in crushing form, and cruises to a 5-1 lead in the tie-break, and then makes short work of getting to seven and a 7-6 first set win. Konta let that slip, and very badly. Pliskova served eight aces to one, and that was where the set was eventually won.
Konta in trouble, as she is overwhelmed by Pliskova, who wins nine points to her one to go 6-5 up. She needs to serve out the 12th game of the first set to reach a tiebreak. She manages it, and actually rather comfortably.
Updated at 6.53pm BST
That's his 56th quarter-final, his 13th at Flushing Meadows. "It's easy to see the joy but you need the success," he says. "It's easier when you don't play tennis and get your ass kicked every week."
Federer beats Goffin 6-2 6-2 6-0
That was as easy a match as the old man could have envisaged. He will be well rested ahead of facing one of Dimitrov and De Minaur.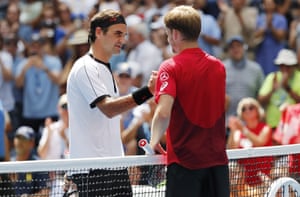 Updated at 6.51pm BST
A blow for Britain! Konta, with Pliskova having made short work of the ninth game to make it 4-5, really needs to hold. She goes 0-30 down, and then 0-40. Then loses the first break point. Oh dear.
Federer is 5-0 up, and Goffin will have no need to book an extra night. This has been so easy for the Swiss master, as hard as Goffin has tried.
Konta, at 4-3, really needs to hold her serve to see out the first set. And manages to do so. 5-3 up and looking set fair.
And Federer cruises into a 2-0 lead in the third set. I know it's crazy, but it's true. He has won 9 points to Goffin's one.